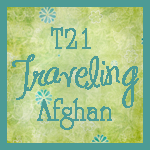 My sweet friend,
CJ
, recently came up with an incredible way for those of us who have children with Down syndrome to connect.  She has created the T21 Traveling Afgan.  (T21 is the medical term for Down syndrome because it is the 21st chromosome that is affected.)
At any rate, the afgan is completed and will be sent all over the United States and to different countries in the world.  Each participant keeps the afgan for a few days, takes pictures of their child with the afgan and then passes it along to the next person.  What an awesome way to meet other families of kiddos with DS!
CJ
is one of my favorite blogging buddies.  We often joke that her little girl is Tyler's future wife.  It's fate, really.  Her daughter is also named Emmalee, she and Tyler share the exact same birthday and her Emmalee is also adopted.  
If you or someone you know has a child with Down syndrome and you would like to participate, you can post it here or check out
CJ's blog
for more information.